Hi again,
Sorry to post a new issue but I just got a new phone (Xiaomi Mi Note 10 Lite) with Android 10 and in-screen fingerprint sensor.
It appears that with Cryptomator v1.5.9 under some circumstances the biometric unlock dialogue is opened twice in a row and only the second one reads the fingerprint and unlocks the Vault but the first one stays open and blocks the entire phone. This is what this looks like: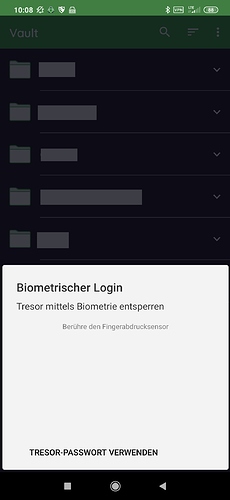 When that happens I have to restart the phone as no other actions are possible any more.
I cannot reliably reproduce it but it seems to happen something like 1 in 5 times or so…
I use OneDrive as the cloud provider.
I hope this issue can be fixed as quickly as the last one and let me know if you need any more details…
Many thanks again!