I bought the android app at 2018, at the very first beginning.
i would say it's still at the beginning now.
ctmt say the vault is locked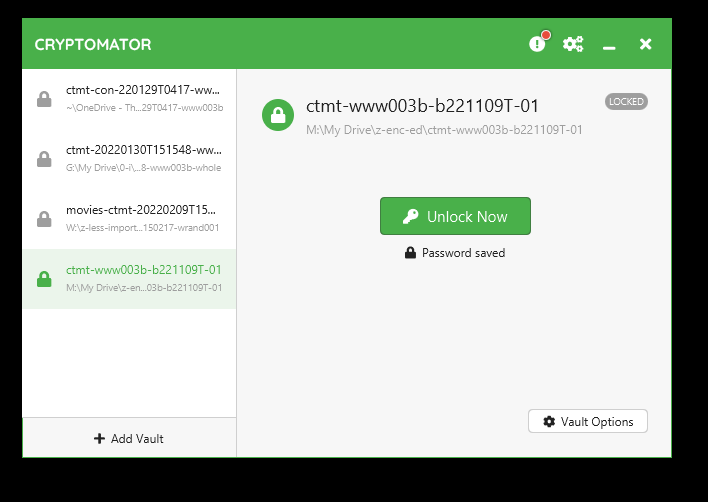 indeed it's mounted.


when I click unlock, itself also say already unlocked: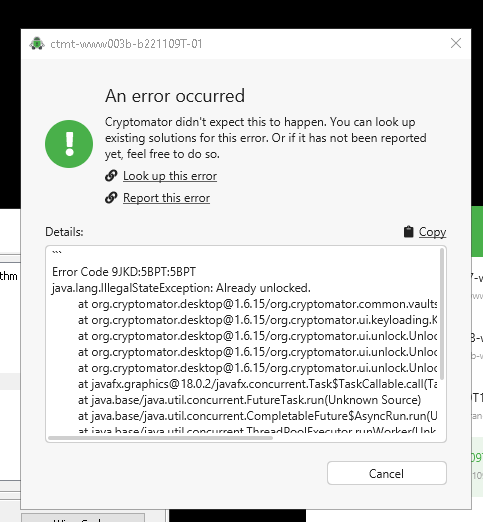 as text at bottom:
problem:
I want to go on street NOW, I can't "lock" it back!
WxF should I do?
platform 64bit win10 pro, v1.6.15, dokany.
vault on google drive
Error Code 9JKD:5BPT:5BPT
java.lang.IllegalStateException: Already unlocked.
	at org.cryptomator.desktop@1.6.15/org.cryptomator.common.vaults.Vault.unlock(Vault.java:148)
	at org.cryptomator.desktop@1.6.15/org.cryptomator.ui.keyloading.KeyLoadingStrategy.use(KeyLoadingStrategy.java:79)
	at org.cryptomator.desktop@1.6.15/org.cryptomator.ui.unlock.UnlockWorkflow.attemptUnlock(UnlockWorkflow.java:72)
	at org.cryptomator.desktop@1.6.15/org.cryptomator.ui.unlock.UnlockWorkflow.call(UnlockWorkflow.java:62)
	at org.cryptomator.desktop@1.6.15/org.cryptomator.ui.unlock.UnlockWorkflow.call(UnlockWorkflow.java:35)
	at javafx.graphics@18.0.2/javafx.concurrent.Task$TaskCallable.call(Task.java:1426)
	at java.base/java.util.concurrent.FutureTask.run(Unknown Source)
	at java.base/java.util.concurrent.CompletableFuture$AsyncRun.run(Unknown Source)
	at java.base/java.util.concurrent.ThreadPoolExecutor.runWorker(Unknown Source)
	at java.base/java.util.concurrent.ThreadPoolExecutor$Worker.run(Unknown Source)
	at java.base/java.lang.Thread.run(Unknown Source)