Hi,
I found this issue which describes exactly what I'm still experiencing:
Upload to OneDrive (for Business) stuck with status "waiting" · Issue #78 · cryptomator/ios · GitHub
I'm using iOS 15.1 and Cryptomator 2.2.3(917)
The original file name is NameValue.xlsx. I edited the file on my phone and forgot about it. This morning, when I opened the file on my Mac, I noticed the file doesn't contain the changes I made yesterday. When I checked my phone, it shows status "Waiting".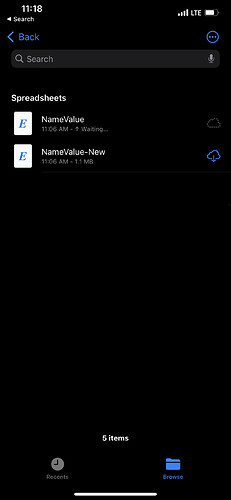 In my screenshot above, I renamed the original file to NameValue-New.xlsx from my computer. Eventually, the file with "Waiting" status disappears from my phone. However, if I rename the file back NameValue.xlsx from my computer, it re-appears again on my phone.
Assuming there is no way to force iOS to resume uploading, is there at least a way to permanently remove the local version on my phone, so that I can go back to using the original file name?
Thanks!