Hello


Every time I try to lock one of my Vaults (happens with all of them), I get this message:
Graceful lock failed
Locking "Vault_Name" was blocked by pending operations or open files. You can force lock this vault, however interrupting I/O may result in the loss of unsaved data.
I have searched for the process that may be using the vault using drive path (e.g. "E:/") search query within "Find Handle or DLL" within Process Explorer, but I get no match, which mostly means no process is using it.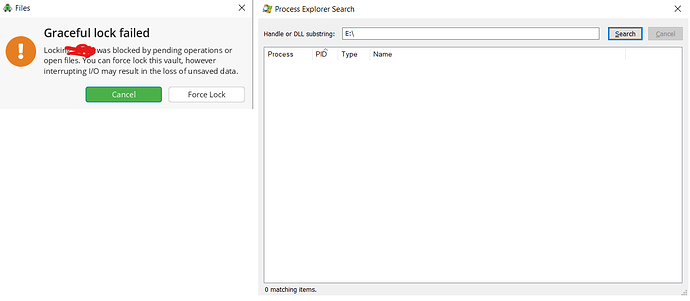 I know that I can click "Force Lock", but I don't like getting this warning while there's no file opened or program using my vault.
Why do I get this warning every time, is it some issue with the settings or a Cryptomator bug?
Thanks in advance.