Hi,
I'm using Cryptomator in cooperation with Cyberduck and Google Drive. I have a big vault with a lot of backuped files in it on the drive without a syn in progress. I directly access the vault by connection to the g-drife with cyberduck.
When I try to download a file, I get an error from cyberduck, telling me, that a file from the encrypted vault can not be found. German error message see attachment: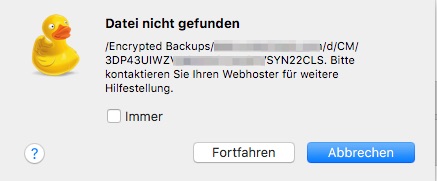 I had a look and those files don't exist.
Please help … as these are important backups.
Many thanks and cheers, Christian