Buenos días,
Ayer configuré 3 bóvedas, hoy al arrancar me funcionan 2 y la tercera me da el siguiente error:
Good morning,
Yesterday I configured 3 vaults, today when I start 2 of them work and the third one gives me the following error: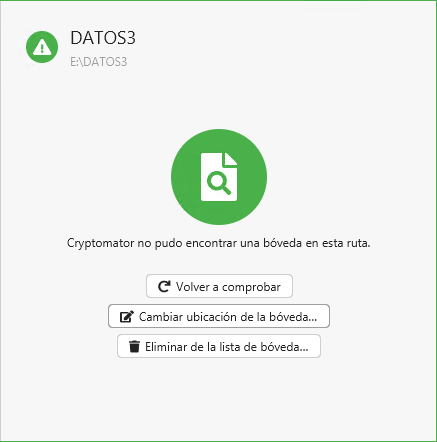 En la ruta no están ninguno de los archivos masterkey.cryptomator ni vault.cryptomator.
None of the masterkey.cryptomator or vault.cryptomator files are in the path.
Me pasó ayer en otro ordenador y he perdido todo lo que estaba en la bóveda al intentar cambiar la ubicación y no encontrar ningún archivo, elimine la boveda y volví a crearla, pero perdí todo lo que había dentro de la primera bóveda…
No quiero que me pase en esta también.
¿Puede alguien ayudarme por favor?
It happened yesterday on another computer and I lost everything that was in the vault when I tried to change the location and could not find any file, I deleted the vault and recreated it, but I lost everything that was inside the first vault…
I don't want it to happen to me in this one as well.
Can someone please help me?