Hi all,
Im using Cryptomator in a automated backup process since version 1.3.4 which follows 3 steps.
open cryptomator by starting the .exe and mount the vault (and wait 30 seconds before going ahead so there's enough time to open the vault)
run file backup into the vault
start onedrive for sync
Worked like a charm.
Since Version 1.4.5/6 I notice a really strange behavior that actually avoids my backup process to start.
When cryptomator is launched, the vault is opened and mounted.
also the logfile says its mounted, no error messages, debug mode on:
[Background Thread 1] DEBUG o.c.f.webdav.mount.WindowsMounter - Mounted \cryptomator-vault@42427\DavWWWRoot\O0XFc5erTQpE\XXX on drive Z:
But the drive is not available or mounted, not visible in the windows explorer.
And then the update check is running, and the app seems stuck in it.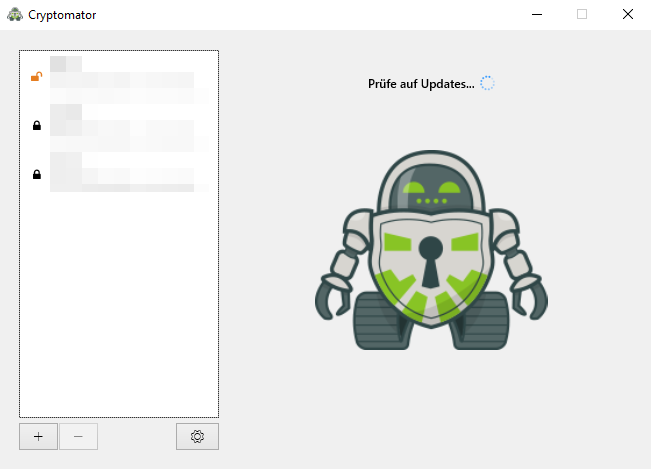 You can see, the vault is shown open (but its not), and the update check is shown running (but the progress wheel is not turning).
I thought the update check is having problems so deactivated it. But, that does not help. The app is stuck at the same position, but without the update message.
In my case, after 30 seconds the backup program is interrupted with the message that the drive is not available, because the drive is not available. After that message, the drive is available immediately.
Furthermore, If I restart the process, the cryptomator is opened once again in a second instance and tries to open the same vaults. You can also start cryptomator in several sessions now. That was not possible with the older versions, and Im not sure if this is intended, because it just don't make sense to me to have multiple cryptomator sessions at once.
To be honest, the "is mounted but drive is not available" issue does not appear if I start cryptomator with the desktop icon or directly with the exe, so I'm not sure if my problem is a cryptomator problem at all. I just don't have a clue whats going on, and the only software that has changed in this process is cryptomator


UPDATE: actually this happened right now even with dokany (thought it is a WebDAV only thing)
So there is no workaround/solution for me and I have to do my backup-process step by step manually. I'm curious whats going on here and why we are allowed to open cryptomator more than once now.
Maybe someone has an idea.
Thanks in advance!
System: Windows 10 Pro 1809
Cryptomator: 1.46
Dokan Library 1.2.1.1000 x64