Hi guys, fantastic work!
I'm currently testing v2.0.0(451) on iOS 15.0.2
The user experience has significantly improved, great job on that. New features like google drive apps integration are awesome, however, I noticed some small probably just UX issues there:
I added a vault for google drive with the following steps:
Tab the plus button.
choose Create New Vault.
select Google Drive & complete google auth.
select Create New Folder.
choose
create new password & create
confirm the confirmation prompt.
The screen gets stuck at step 7 for sometime probably creating the vault on google drive and then eventually it moves forward. Not a big deal but it'd be nice to display a spinner or something similar to let the user know they should wait. Everything else was flaw less here
Then the next thing I tested was creating a vault using Other File Providers feature.
When you tab Select Storage Location, only iCloud Drive and On My iPhone options are selectable. I'm not sure if it's something to do with permissions from the file providers or iOS itself but I checked the settings everywhere and didn't find a clue. I wish there was a way to effectively choose the storage location from file list of providers. It can also be totally me not using the app properly, please correct me if that's the case.
Here is an image about storage locations and as you see only local iOS storage and iCloud Drive are selectable.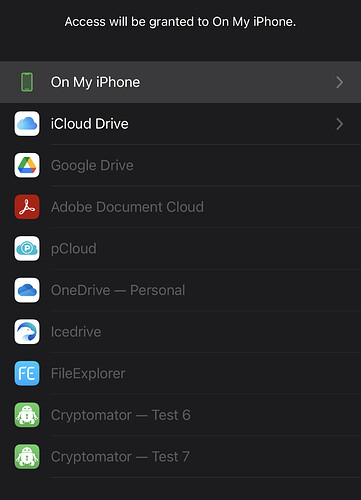 Still testing the other aspects such as accessibility and encryption.
Cheers