Hi, everyone
how can i connect a shared google drive vault.
Thank you and greetings from Germany
Hey and welcome to the Cryptomator Community

,
It depends on how the vault is shared, using "Shared drives" or a "Shared folder". For the "Shared folder" option, you can follow this instructions:
"Shared drives" support isn't yet implemented, see https://github.com/cryptomator/android/issues/354 for further information.
Sorry ich glaub ich hab mich falsch ausgedrückt. Ich möchte auf meinem Android Telefon einen freigegebenen Ordner( Google Drive) wo der Cryptomator Tresor ist verbinden. Leider habe ich über die Cryptomator App (Android) keinen Zugriff auf die freigegebenen Ordner.
I want to connect a shared folder (Google Drive) on my Android phone where the Cryptomator vault is. Unfortunately I don't have access to the shared folders via the Cryptomator app (Android).
Danke thanks

Hallo, danke für das Tutorial. Bevor ich hier im Forum gefragt habe, hatte ich es schon mit einer Verknüpfung versucht. Ich habe die neue Verknüpfung erstellt, wie in deiner Beschreibung, jedoch auch ohne Erfolg. Die Verknüpfung wird in der App als Datei angezeigt und ist nicht auswählbar.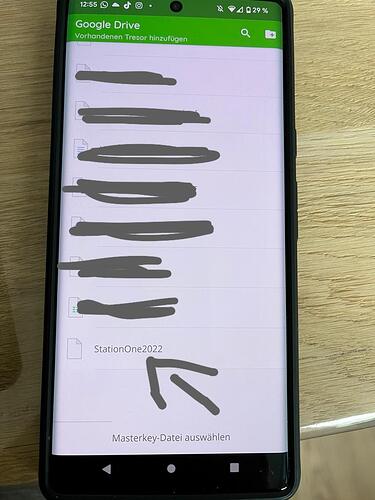 Hast du vielleicht noch eine Idee woran es liegen kann?
Danke im Voraus
Danke für das Feedback und die Screenshots.
Google hat tatsächlich in den letzten Wochen etwas geändert sodass wir in der aktuellen Version die Verknüpfungen nicht unterstützen. Wir arbeiten gerade an einem Update und werden das zeitnah veröffentlichen. Danke noch mal für den Hinweis

Ich schätze mal du hast die Cryptomator-App über den Playstore bezogen. Wenn du möchtest kannst du unserer Testern beitreten da wir gestern die version 1.7.0-beta1 veröffentlicht haben, die geteilte Tresore wieder unterstützt: Inloggen - Google Accounts
Google prüft aktuell noch die Version, sollte aber heute oder morgen verfügbar sein.
Hab jetzt endlich die Version 1.7 auf dem Handy und es funktioniert vielen lieben Dank für den Support!