Hello,
I have a problem with only one file which is 4.5 GB large. This file was created five days ago. I tried to copy or open this video file in Cryptomator 1.5.2 yesterday and 1.5.3 today. No difference.
I use Windows 10, Dokany (file is too big for WebDav) and the HDD is external. I can move the file within the HDD but can't copy or open it.
Today's log is without warning and error.
I copy and paste the file and can see the Windows copy process bar. In the end (~ 96%) the copy process starts from the beginning. Then I got a dialog that I need admin privilegs ("Sie müssen Administratorberechtigungen angeben, um diese Datei zu kopieren"). I submit this and got another error dialog about path is not available.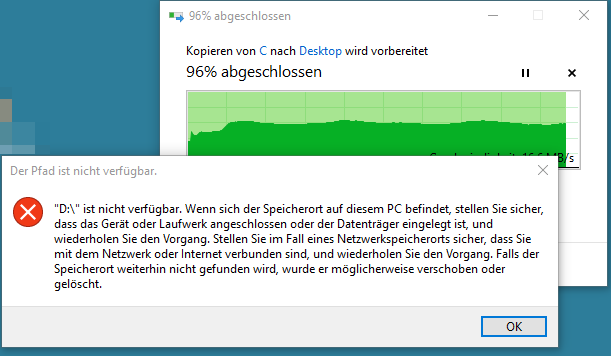 Log from yesterday with 1.5.2:
21:23:44.437 [main] INFO  org.cryptomator.launcher.Cryptomator - Starting Cryptomator 1.5.2 on Windows 10 10.0 (amd64)
21:46:25.313 [JavaFX Application Thread] INFO  o.c.ui.launcher.FxApplicationStarter - JavaFX Runtime started.
21:46:25.325 [JavaFX Application Thread] INFO  org.cryptomator.jni.FunctionsLoader - loaded WinFunctions.dll
21:46:31.462 [JavaFX Application Thread] INFO  o.cryptomator.ui.fxapp.UpdateChecker - Current version: 1.5.2, lastest version: 1.5.3
21:46:33.270 [App Background Thread 004] INFO  com.dokany.java.DokanyDriver - Dokany version: 130
21:46:33.270 [App Background Thread 004] INFO  com.dokany.java.DokanyDriver - Dokany driver version: 400
21:46:36.282 [JavaFX Application Thread] INFO  o.c.ui.unlock.UnlockController - Unlock of 'Privat' succeeded.
21:46:58.743 [App Background Thread 006] INFO  com.dokany.java.DokanyDriver - Dokany version: 130
21:46:58.744 [App Background Thread 006] INFO  com.dokany.java.DokanyDriver - Dokany driver version: 400
21:47:01.745 [JavaFX Application Thread] INFO  o.c.ui.unlock.UnlockController - Unlock of 'X' succeeded.
21:47:16.040 [Thread-2888] WARN  c.dokany.java.DokanyOperationsProxy - getFileInformation(): Uncaught exception. Returning generic failure code.
java.lang.UnsupportedOperationException: Unsupported file attribute type: interface java.nio.file.attribute.DosFileAttributes
	at org.cryptomator.cryptofs.attr.AttributeProvider.readAttributes(AttributeProvider.java:58)
	at org.cryptomator.cryptofs.CryptoFileSystemImpl.readAttributes(CryptoFileSystemImpl.java:239)
	at org.cryptomator.cryptofs.CryptoFileSystemProvider.readAttributes(CryptoFileSystemProvider.java:424)
	at java.base/java.nio.file.Files.readAttributes(Unknown Source)
	at org.cryptomator.frontend.dokany.ReadWriteAdapter.getFileInformation(ReadWriteAdapter.java:486)
	at com.dokany.java.DokanyOperationsProxy$GetFileInformationProxy.callback(DokanyOperationsProxy.java:125)
	at jdk.internal.reflect.GeneratedMethodAccessor36.invoke(Unknown Source)
	at java.base/jdk.internal.reflect.DelegatingMethodAccessorImpl.invoke(Unknown Source)
	at java.base/java.lang.reflect.Method.invoke(Unknown Source)
	at com.sun.jna.CallbackReference$DefaultCallbackProxy.invokeCallback(CallbackReference.java:520)
	at com.sun.jna.CallbackReference$DefaultCallbackProxy.callback(CallbackReference.java:551)