Hi guys
So sorry for another M1 issue but after days of trying all sorts of posted solutions, I'm at a loss. Searching here for "extension blocked" doesn't show much too.
Cryptomator version 1.5.14 is installed. All solutions point to making sure the latest version of mac fuse is installed, I have version 4.1.0.
When I try to unlock a vault, I am met with this system extension blocked error: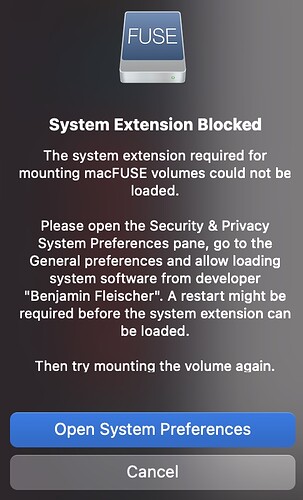 BUT at the same time, says it has been unlocked successfully (cannot find this folder though).
I go to security settings like most posted solutions have but the issue here is I don't have anything waiting for me to "allow" like some others do: screenshot here
I decided to try with a brand new vault but the same errors persist. Further, it tells me I have unlocked it but the reveal button does nothing. I'm not sure where it is opening this folder?
Any ideas that don't involve Rosetta? Thank you!