Hello,
First for the sake of clarity, let me detail the setup:
I have a Windows 10 machine where Cryptomator is installed, using Dokany.
On this Windows machine, a network share called "Vault" is mounted as "P:"
The share is setup on a Debian server, and accessible from 10.10.20.11.
Only a specific user can access the share/directory (\10.10.20.11\Vault\ and has read/write/execute permissions for it.
The issue:
When I try to create a Cryptomator vault in the share, it is not possible because Cryptomator reports that there is no write permission to the location.
The path would be as such: \10.10.20.11\Vault\CryptoVaultChosenName
Here, "CryptoVaultChosenName" is just a placeholder name for the Cryptomator vault (can be anything).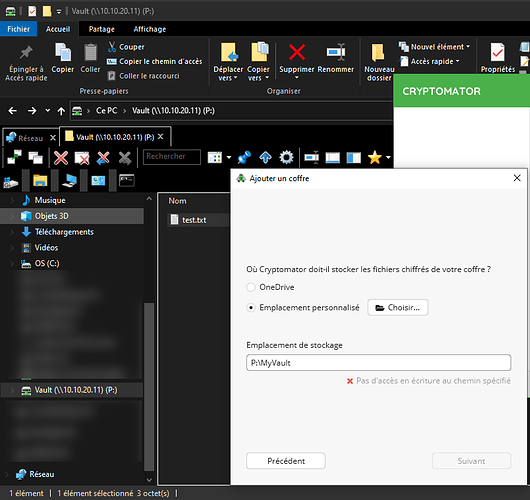 However, when I create a Cryptomator vault on a local disk, then move the vault to the share afterward, it works perfectly fine. It does transfer files, intergrity seems good and after that I can lock and unlock the vault from Cryptomator on the Windows client, and the vault gets mounted under Windows file explorer without any problem and I can access and operate the files, read/copy…
So I am not sure if this is a limitation of very specific to my setup, but I would appreciate to just be able to create the Cryptomator vaults directly on the shares, instead of having to create multiple, then move them one by one.
For now I have a concern of being prevented to access the files in the future if it stops working.
Then I would have to copy back all the vaults of several TB, back to a Windows machine to be able to read the files. Network speed is not a concern, but client available storage is.
Thanks in advance!