Hi everyone!
I began playing with Cryptomator last week. After pouring through the FAQs and docs, I still have a couple questions—some specific to my use case (if anyone is willing to help).
My big concern: I've read files in Cryptomator vaults are not intended for frequent editing due to heavy I/O. Contrarily, I've read that doing so is no more risky than using iCloud, NAS, or any other mounted storage—all risk data corruption with day-to-day use. I constantly jump between Windows, Mac, and iOS, and my hope was to use Cryptomator to work more securely and without added risk. Can I rest easy with my data, so long as I back up?
Specifically, here is my planned workflow (I'm including a flowchart to illustrate):
Encrypted files are stored in Google Drive, accessed locally on Windows via Google Drive Stream (where important files are locally downloaded).
Daily, for redundancy and peace of mind, I want to mirror/sync the unencrypted contents of important vaults onto my HDD (and periodically, then to an external HD).
Also daily, I want to incrementally backup certain directories straight from Google Drive to Backblaze B2.
Ideally I need a solution that will allow me to sync/mirror 1:1 in both cases: a) encrypted files from Drive to B2, and b) the vital unencrypted contents from Drive Stream to local directory (and then again to external).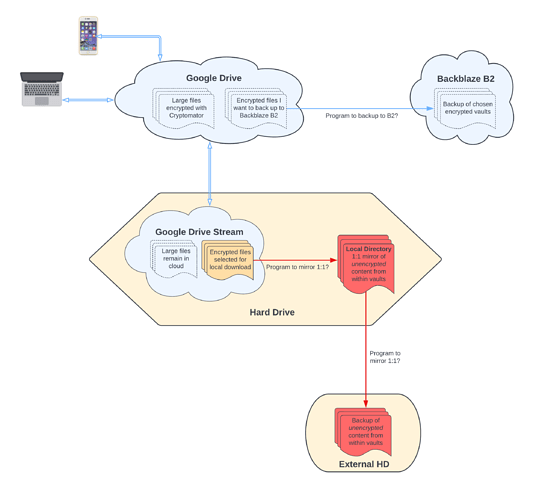 What program(s) do you recommend to do this? I am aware of and have fiddled with possible solutions (rclone, Kopia, Cyberduck, Duplicacy…), but I'm overwhelmed. For instance, I've read rclone won't maintain folder hierarchies and doesn't handle large Cryptomator files/directories well, and Kopia won't backup from Drive… the list goes on. I can't figure out which will work reliably. Do you have suggestions and/or instructions? What has worked dependably for you?
Thank you, and I'm so excited to join this community of like-minded privacy enthusiasts!