As previously announced, we will migrate to a new vault format in Cryptomator 1.5.0, which will be more efficient at handling long file names.
To support any filename length, Cryptomator will internally save the encrypted name of files with very long names in a special way that is less efficient than how it stores shorter names. With the new vault format we want to increase the threshold at which the less efficient storage takes effect. However, we can not increase it to infinity and beyond, as third party software (such as cloud sync software or your file system) wouldn't be able to deal with it. Keeping this in mind, it is now our job to find the ideal threshold.
When you analyze the name of files on your file system, you'll notice that shorter names are more likely than longer ones. The distribution of lengths seems to follow some logarithmic function. This means that by increasing the threshold to factor x, the number of affected files will approximately decrease by aˣ.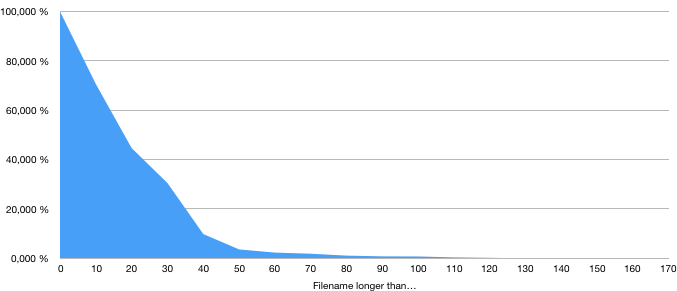 Previously, Cryptomator considered filenames with more than 80 chars as "long". In the future version the threshold will be increased to 146.
We asked our users to tell us how many files are longer than the old vs. the new threshold and you submitted a total of 21,126,485 files! Wow! Thank you!

Here are the results:
| | Min | Max | x̄ | x̃ | σ² |
| --- | --- | --- | --- | --- | --- |
| > 80 chars | 0,030% | 26,415% | 2,936% | 1,220% | 0,266% |
| > 146 chars | 0,000% | 1,853% | 0,079% | 0,002% | 0,001% |
This means: For the average user the likelihood for Cryptomator's long filename handling to kick in will decrease from 1,220% to 0,002%. This is roughly 600 times less likely!
Thanks again for everyone helping us gain this data.