I am running the latest version of Cryptomator (1.4.0) and Dropbox (63.4.107) on Win 10 Pro (1803 w/ all avail updates).
In trying to copy a 396KB PDF file from my laptop to my vault, I get a "not enough memory" error message. This happens whether the vault is mounted as a Dokany or WebDAV resource. Exact error message is: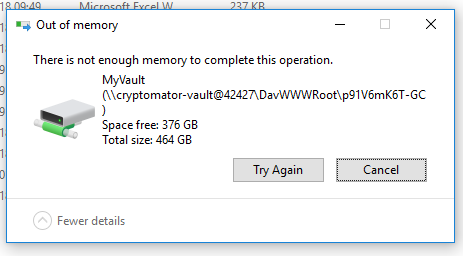 This is on top of an annoying issue where some files in my vault cannot be removed from the same system that created the file. I have to remove them from another system (PC or mobile device).
I never had these problems when I first started using Cryptomator. I wish I could remember what version that was. But, it seems like since this 1.4.0 release (and maybe the one prior), I have been having more and more problems.
Any help that can be provided would be appreciated. Otherwise, I may just give up on Cryptomator all together. If I do, would it be possible to get my app purchases (Android and iOS) refunded?