Bear w/ me good ppl, I have a lot of questions and am very confused and frustrated. I use the iOS app and the Windows desktop app. When I try to create a vault from Windows and click "add a new vault", I try to create it within Dropbox, but it seems to automatically make it into a WebDAV drive 42427. That loads as vault(\@42427/fZ and a bunch of random letters. Now, that virtual drive comes up as an empty folder, but when I try to add anything to it, it says that it's transferring "without properties" and everything has 0 bytes. The folder within Dropbox does contain the d, m, and cryptomator.masterkey files. Am I supposed to copy files into the vault within Dropbox along w/ those 4 folders/files or put them in m or d? Why is the virtual drive that pops up separately from Dropbox in Windows explorer empty; isn't that supposed to be the actual drive?
When I look back to the vault on my iPhone, it's also empty, whether I've added anything within Dropbox or to the virtual drive that pops up.
The Windows app looks like this (I'll upload a photo.) If I ever get it right, how will I be able to tell that my files are encrypted? And what should it look like within Dropbox?
In OneDrive, I haven't used my laptop at all, but from within Cryptomator, all that pops up is what I have manually uploaded from onedrive and the onedrive app has d, masterkey, pictures and music. If d is data, the files are unencrypted in separate folders. Then again in the Cryptomator app there wouldn't be anything there at all unless I didn't manually upload them.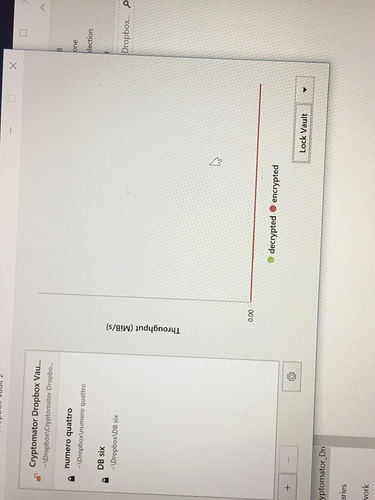 I also can never lock the app on Windows, it says I have to force locking even when I am out of Dropbox and don't have other files in Dropbox open.