Hi everyone,
First thanks about cryptomator, it's really cool…
So I use it with Dropbox, and I have noticed this behaviour a couple of times: if I make small changes to one or more files in the vault, when I sync the vault sometimes Dropbox tells me that only masterkey.cryptomator.bkup was sync'ed.
For example, today I made a small change to one of the files in the vault. The pic attached shows 2 files under today, but the obfuscated file is not in the vault. The only other file from today is masterkey.cryptomator.bkup.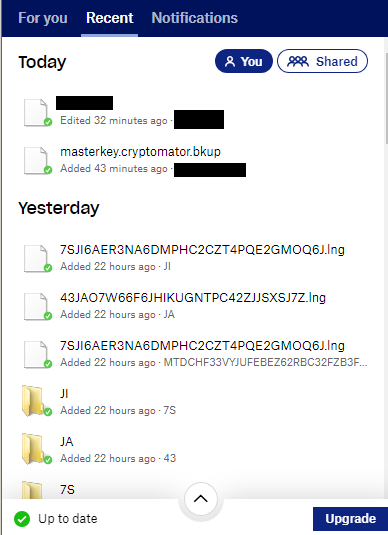 Is this expected behaviour, i.e. if a minor file change is done, would that roll into masterkey.cryptomator.bkup perhaps, or is something else going on?
I hope my question is clear.
Windows 7 / Cryptomator version 1.3.4
Thanks